Fruit Baskets, Footie Pajamas, Looking at Lights and "It's a Wonderful Life"...
December 01, 2014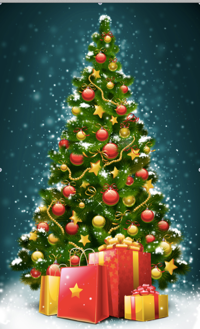 Home for the Holidays
Fruit baskets and footie pajamas, looking at lights and "It's a Wonderful Life" . . . when December rolls around, I can't help but think of home, and family, and traditions. Growing up, our family had holiday traditions that I never truly appreciated until I had children of my own. Here are some of my favorites...
Footie pajamas. As children, my brothers and I were always given pajamas on Christmas Eve, typically the footed kind, which our family called "woolies." (I'm not sure how the "wooly" moniker originated —they were not made of wool, but rather this synthetic material that was warm, but not very soft, with feet made of some type of plastic that hardened and cracked with age, leaving behind tufts of felt.) Today, footie pajamas are still popular, much softer, and for children of all ages. I still love them.
Fruit baskets. Every year, my father organizes our annual family "fruit basket and caroling" excursion. We deliver fruit baskets and sing Christmas carols to people we know: some friends, some casual acquaintances, some widowed, some infirm, many aged, and all appreciative of a visit.
Looking at lights. My dad LOVES to drive around town and look at all of the holiday light displays. The rest of us tag along, sometimes begrudgingly, but always end up enjoying the show . . . and the time together.
Holiday movies. I'm sure every family has their favorites, and "It's a Wonderful Life" is probably on every list. It's certainly a favorite and a tradition in our home, but we have another holiday favorite that might not be on every list: the Albert Finney musical version of "Scrooge." It's an absolute must-see. Our holiday would not be complete without at least one viewing.

Here are some more holiday traditions your family might enjoy
Tell stories of years past. Remind each other of your family's history and your shared memories. Yesterday I went to lunch with my father, my aunt, and my cousin, and we regaled each other with funny stories about my long-deceased grandmother (she was quite a character — often-quoted and always remembered). It's good to remember— and to tell our children about— our family's traditions, and history, and stories.
Decorate a tree. Go pick out a tree (you can cut it down, or you can do what I do —let Lowe's cut it down for you), and then decorate it together. Those ornaments are stories in themselves: the one with your newborn's handprint; the myriad of school-made ornaments involving pipe cleaners, wooden craft sticks, and awkward photos; the ornaments given to you by friends over the years. Priceless.
Give an annual ornament. Give each child an annual ornament, so they will have their own priceless collection when they have their own families.
Make crafts and decorations. Paper snowflakes, popcorn garland, glittered pinecones, wine cork wreaths, DIY snow globes, and so on. Truly, there is a craft for every age and every level of expertise. And creating something together provides both a fun activity for this year's holiday, and a memorable keepsake for holidays to come.
Be generous. The holidays can be a difficult time for those who are alone or in need. There are so many opportunities to give back.
Visit a nursing home. Volunteer at a soup kitchen or food bank. Donate gently used clothing (particularly warm coats) to a local shelter. Sponsor a family or child in need. Toys for Tots and Operation Christmas Child are two organizations that help provide for needy children.
Take the same photo each year. This is an idea that I have not yet tried, but it sounds like a fabulous way to start a new family tradition. I have seen many examples on the Internet; the idea is to take the photos in the same location, with the same people sitting in the same places, perhaps even wearing the same (or similar) clothing each year. The photos become a visual timeline of your family's history.
Read a special book together. Families have long included reading together in their holiday traditions. Choose your favorites, from A Christmas Carol to How the Grinch Stole Christmas, and read them aloud to each other, taking turns readings, perhaps one book each night until Christmas.
Make some sweet treats. Gingerbread houses. Iced cookies. Peppermint bark. Decorated cupcakes. Dipped pretzels. Mmm . . . My mouth's watering already.
Count your blessings. As the year draws to a close, make an "I am Thankful" list, writing down things for which you are thankful. Write them in a journal, or on pieces of paper (which can be kept in a special box or jar), or write them on paper snowflakes and turn them into a holiday decoration.
Send a card. Many of us will be sending cards to friends and family, but you could also send a card to someone who might be lonely this year, like residents of nursing homes or soldiers overseas. Any Soldier and Soldiers Angels will help you send a card or gift to military service personnel.
Whatever your family's traditions, embrace them —and each other —and celebrate!
Photo courtesy of StockFreeImages.com